TXT e-solutions joins Microsoft Mixed Reality Partner Program
---
Engineering software provider to advance HoloLens applications for the aerospace and aviation industries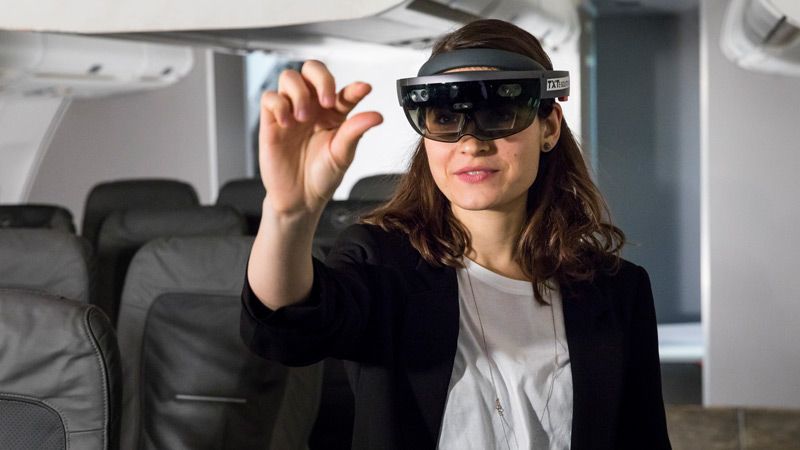 MILAN, 24 October 2018 – TXT e-solutions, a specialized provider of advanced software solutions, today announced their participation in Microsoft's Mixed Reality Partner Program (MRPP). TXT joined the prestigious program on the strengths of their mixed reality implementations and their three-decade track record of leveraging new and emerging technologies for the aerospace and aviation industries.
TXT is advancing the adoption of mixed reality technology and Microsoft's HoloLens headsets both for extending the capabilities of existing products and for developing brand-new software solutions and services in three key areas:
Configuration of aircraft and passenger cabins, helping airline buyers understand and experience their options as well as streamlining the collaboration between aircraft sales and marketing teams across the globe
Education and on-the-job training of pilots, cabin crews and maintenance technicians, creating effective learning environments which maximize trainee engagement and knowledge retention
Technical support for field technicians, providing hands-free, real-time access to relevant maintenance information and live over-the-shoulder coaching from remote subject matter experts
MRPP is an integrated business program focused on enabling and supporting digital agencies, systems integrators, and solution providers who are committed to building mixed reality solutions. This ensures that customers can have confidence that they are working with accredited Mixed Reality partners who are working closely with Microsoft on the future of computing.
"We've been implementing virtual and augmented reality capabilities in our training and simulation software for a long time, but the availability of mixed reality devices such as Microsoft HoloLens that are completely untethered and displays holograms in your field of view, opens up a whole new world of industrial applications for us to explore," says Michele Sesana, Mixed Reality and Digital Innovation Manager at TXT. "We are privileged to embark on this journey with the support of the Microsoft engineering team, sharing in their know-how and pioneering spirit."
"We're delighted to have TXT e-solutions join the Mixed Reality Partner Program. TXT's approach of extending their existing solutions and creating targeted solutions will help aerospace and aviation customers fast-track their journey to industry 4.0 while also driving meaningful cost savings and operational efficiencies," says Leila Martine, Product Marketing Director, Commercial Mixed Reality at Microsoft.
###
Note to editors
About TXT e-solutions
TXT is an international, specialized provider of advanced software solutions supporting customers in high-tech markets in their mission- and business-critical core processes and throughout their product lifecycles.
TXT operates in two main business areas:
Engineering software products and solutions for the aerospace, aviation and automotive industries
Software quality services and credit management solutions for the banking and finance industry
Founded in 1989, TXT has been listed in the STAR segment of the Italian Stock Exchange since July 2000 (TXT.MI) and employs more than 350 staff at its Milan headquarter and its subsidiaries in Italy, Germany, France, Switzerland, the UK and the US.
For more information, please visit www.txtgroup.com
About Microsoft
Microsoft (Nasdaq "MSFT" @microsoft) enables digital transformation for the era of an intelligent cloud and an intelligent edge. Its mission is to empower every person and every organization on the planet to achieve more.
Resources & additional information
-->